Mechanical Engineering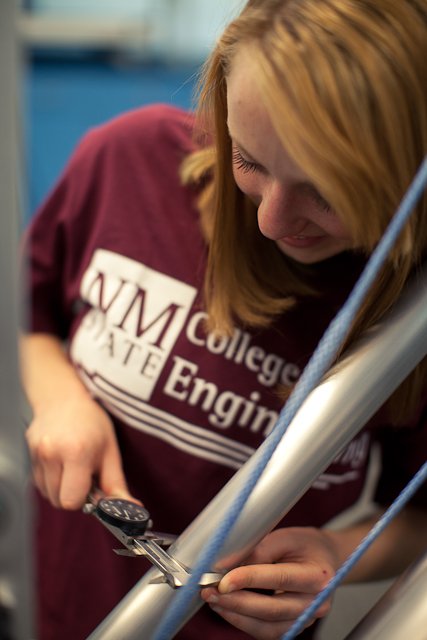 If you like to take things apart to see how they work…
If you enjoy seeing ideas become physical reality…
If you are drawn to devising ways to improve objects, machines, systems…
These characteristics can lead you to Mechanical Engineering. Almost anything that can be imagined, designed, and built has a mechanical engineering aspect to it.
Mechanical Engineering (ME) is the broadest and most diverse of the engineering fields. The versatility of a mechanical engineering education prepares one for involvement in many fields.
Analysis, design, and synthesis are the key functions of a mechanical engineer.
First, analysis: Observe and examine what is and what needs to be done;
Second, design: Explore possibilities of structure, materials, efficiency, safety, etc.;
Then, synthesis: Bring all these ideas and information into a successful design solution.
NMSU's ME program balances theory with practical applications through design projects and experiments. A strong program of co-ops and internships offers further opportunity to experience what mechanical engineers do in the world beyond school.
Many of our graduates go on to further education, increasing their preparatory skills in specific fields. Others find employment in a great variety of enterprises such as:
Bechtel
Boeing
B.F. Goodrich
General Motors

Utility companies
N.A.S.A.
U.S. Departments of Energy And Defense
National and private laboratories
Aerospace Engineering
NMSU's Mechanical Engineering department has offered courses towards a Bachelor of Science in Aerospace Engineering (AE) since Fall 2006. Our program has the distinction of being the first and only AE degree program in New Mexico and west Texas.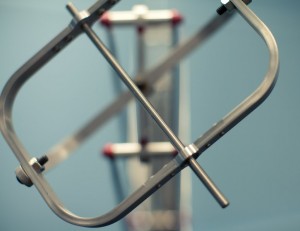 AE is a natural development for NMSU, the College of Engineering, and the ME Department. They already enjoy close working relations with numerous aerospace related entities. Joint faculty research, research contracts, co-ops and internships, and employment of our graduates have long been established with regional agencies such as Los Alamos and Sandia National Laboratories, White Sands Testing Facility, and the Boeing Company.
As New Mexico's Space Grant Institution, NMSU has contacts and opportunities through the Space Grant sponsor, NASA. Perhaps the most exciting of these programs for engineering students is the Reduced-Gravity Student Flight Opportunities Program which is a unique academic experience for undergraduate students, based at the Johnson Space Center.
Co-ops and internships provide hands-on involvement that complements the AE curriculum.
New Mexico has also become the focus location for private industry ventures in space travel. The NM Southwest Regional Spaceport will be located about 45 minutes from Las Cruces. Four aerospace companies are presently committed to using the spaceport for civilian flights and competitions.
Eligibility
Current MAE students: For those students starting sophomore or junior year, the switch from ME to AE or AE to ME can be done without taking additional courses.  For students who are further along than the start of their junior year, the switch would generally involve taking additional classes (i.e., some ME courses already taken will have to be replaced by AE courses or vice versa).
Incoming Freshmen: Entering freshmen may declare ME or AE as their major. The ME and AE majors will take the same courses for the first two years of their curriculum.
Transfer students: Transfer students (from a community college or other university) may declare ME or AE as their major. In most cases, transfer students will be able to complete either the ME or the AE degree by taking the same number of courses at NMSU. A possible exception would be transfer students who have completed course work beyond the sophomore level may need to make up some ME or AE course work.
Other NMSU engineering students: Current NMSU students from other engineering departments who switch to the ME or AE major will generally need to make up some course work, as would be the case for any change in major.
Admission requirements for the ME or AE major are the same as for other engineering majors at NMSU. Students should be aware that the aerospace engineering major is considered by most knowledgeable people to be among the most rigorous of the engineering majors.